CHILI's FIELD NOTES COVER W/ PEN HOLDER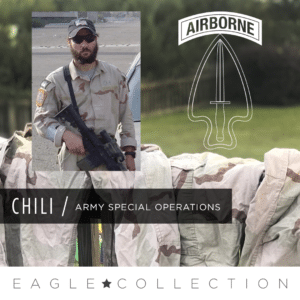 Follow Chili on his Instagram
Own a piece of military history!
American Flag Uniform Inlay: Desert Tri-Color donated by Retired Army Combat SOF veteran, Chili Palmer.
Made from 4 ounce Crazy Horse "Pull Up" leather.
Each cover is carefully cut, glued, dyed, and stitched by a Marine Corps veteran, right here in the USA.
Dimension: 4 3/4" x 6 1/4"
Field Notes booklet included.
Pen not included.