STUMPF FIELD NOTES COVER W/ PEN HOLDER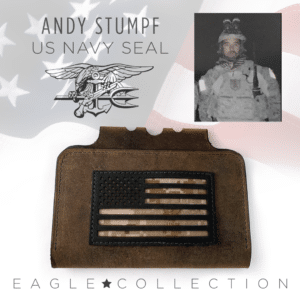 Own a piece of military history!
Andy began his SEAL career attached to SEAL Team Five, in Coronado California. In 2002 he screened for and joined the most elite counter-terrorism unit in the military, SEAL Team Six.  This unit is tasked with conducting the nation's most critical missions, many of which have become the focus of Hollywood movies and books.  While on a combat deployment an Iraqi insurgent shot Andy at close range with an AK-47.
Connect with Navy SEAL Combat Veteran, Andy Stumpf, on his Instagram page: HERE
A portion of the proceeds from sales will be donated to the Navy SEAL Foundation.
Uniform Inlay pattern may vary slightly from what is shown.
Made from 4 ounce Crazy Horse "Pull Up" leather.
Each cover is carefully cut, glued, dyed, and stitched by a Marine Corps veteran, right here in the USA.
Dimension: 4 3/4" x 6 1/4"
Field Notes booklet included for all folks who Pre-Order.
Pen not included.